Legalization
In modern world the differences between countries are more and more eliminated, making life abroad real and easily achievable.
For a full-value stay abroad only one thing is needed - legalization of documents that have to be provided to various institutions and bodies.
Various documents pass different types of legalization, much of this process depends on the country where you plan to travel. If the state accepts the provisions of the Hague Convention, it will be enough to put an apostille on each document. If you plan to travel to the country that does not support this convention, legalization must be consular. Almost all kinds of legalization require notarization of documents.
Our company helps its customers to carry out any kind of legalization. We offer quality services which are carried out in a short time, with a full guarantee of legal purity of processing. Our documents will be certainly accepted in any foreign organization and institution, as processing is performed in compliance with all requirements of international and local rules and agreements.
There are two main types of legalization of documents - putting the stamp "Apostille" and consular legalization. Selecting the type of legalization in each case depends on the country of document's destination, i.e. the country, to the authorities of which it will be subsequently submitted.
Putting the "Apostille" stamp (sometimes this procedure is also called "simplified legalization" or "apostillation") is used to send a document to the countries which have acceded to the Hague Convention dated 5 October 1961 abolishing the requirement of consular legalization and introducing a procedure of simplified legalization - putting the "Apostille" stamp.
This procedure is called simplified because, on one hand, apostillation is carried out quickly by a single authorized body, as well as requires much less waste of time and money from the customer, but on the other hand, the document becomes valid in all countries that have acceded to the Hague Convention.
But, if the country you are preparing a document for is not a participant of the Hague Convention, consular legalization is required. This is a more complicated procedure including: certification of documents by a notary public at the Ministry of Justice and Ministry of Foreign Affairs. This document will be valid only on the territory of the country for which the document is legalized.
IN WHICH CASES LEGALIZATION IS NOT REQUIRED?
It is not required only in three cases:
• when the institution which you are submitting the document to does not require this procedure; check out the requirements in advance;
• when there is a signed bilateral agreement abolishing the requirement of legalization between your country and the state on the territory of which you plan to use the document;
• When the legalization of the document is not possible because of its form / type / nature.
In all other cases legalization of a document is required for sending it abroad.
Text of the back side of Apostille on the copy of translation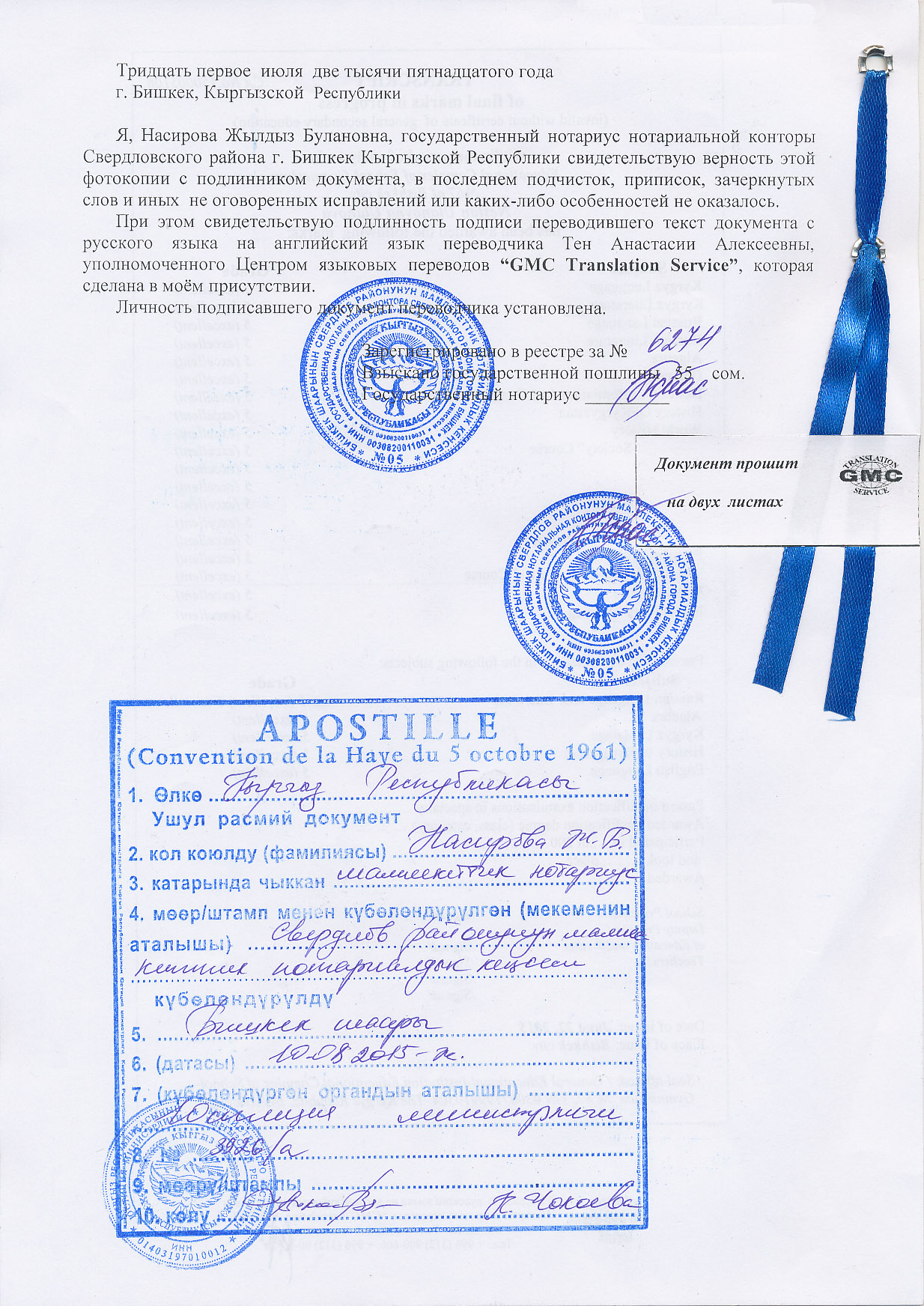 Text of the back side of legalization on the copy of original